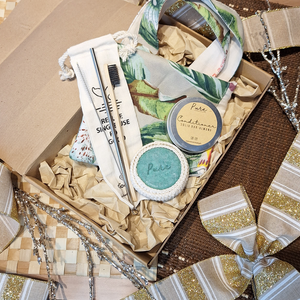 Sustainability Basics
Sustainability meets style with these eco-friendly basics!
If you're starting your zero-waste journey, here are the basic essentials you'll need. 
This box set comes with a metal straw set, a bamboo toothbrush, a reusable pouch, a shampoo bar, conditioner bar and upcycled tote bag.
Choose from different colors of the net bag to match your personal taste. With a handle that's sturdy enough to carry groceries, books, and even everyday essentials, the bag comes in neutrals like cream or classic black, as well as dainty hues like old rose, peach, and various shades of blue - it's hard to pick just one!
The net bag is expandable and can carry up to 5kg of stuff. It is made of 100% cotton so it's lightweight, easy to store and wash.
This set comes in a reusable biodegradable cardboard gift box. Actual color may vary from photo due to differences in lighting.
What Makes It Good
Pure Essentials PH is committed to provide handmade skincare products made from all-natural ingredients. This means that even the coloring that help beautify our products are your day-to-day backyard ingredients like Moringa, Turmeric, Annatto, etc.
Simula PH, which means "to start", is a local cause-driven brand that carries items like crocheted net bags, shampoo bars, and menstrual cups for starting a zero waste lifestyle. They also offer refills for personal care products like sunblock and toner.
Switching to reusable straws is perhaps the easiest first step to reducing the amount of plastic waste you throw away each day. Plastic straws take up to 200 years to decompose, and even the breakdown of its components can leave microscopic amounts of chemicals that are harmful for animals in the ocean.
Take that one step further by shifting to biodegradable bamboo toothbrushes to lessen your "plastic footprint" in garbage dumps and in the ocean.
---
We Also Recommend
---