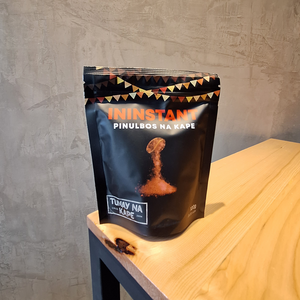 Basilio Coffee Ininstant Baraco
Ininstant Baraco is Philippine Powdered Coffee, which needs only hot water to make great tasting Philippine coffee. Sourced locally and traceably.

Ininstant Baraco is 100% powdered coffee, no chemicals or preservatives were added. This means that the coffee is not 100% soluble in water. At the end of your drink, you will see the coffee sludge, a testament to drinking real Philippine coffee.
The Ininstant baraco is a blend of Robusta and Excelsa varieties, sure to keep you awake and productive.
What Makes It Good?

Sourced as Traceable Philippine Grown Coffee. Basilio Coffee is carefully processed
and precision "Air Roasted" to bring out the desired and inherent coffee flavors and
aroma.  Basilio is a coffee brand that shares -- fair trade coffee grown and produced by Filipino farmers all over the Philippines. All blends are medium-medium dark roast.

Basilio Coffee is a product of a social enterprise. We use Filipino Patented
Technology and mentorship to transform coffee communities from supplier to
entrepreneurs. From soil to cup, communities are able to have an increased
quality of life through coffee.
---
We Also Recommend
---