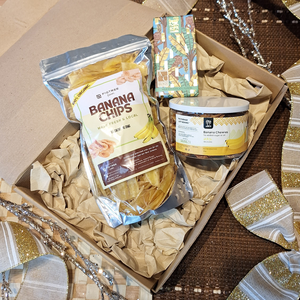 Banana Overload Bundle
This is a perfect gift for someone who loves bananas. We have combined a variety of banana creations to satisfy your cravings.
It includes: 
- Theo and Philo Milk Chocolate Turon
- Sierezza Dried Banana Chewies
- Figtree Farms Banana Chips
- The Good Store Gift Box
What Makes It Good?
Theo & Philo proudly honors high-quality local ingredients—from the cacao beans of Davao in Mindanao, where fertile land and temperate climates produce some of the best cacaos in the region, and the world-famous sugar of Bacolod—and the renowned craftmanship of Filipinos as we share the distinct culture and fearless flavors of the finest single-origin chocolates from this side of the world.
Sierreza is social enterprise that supports marginalized organic farmers in parts of the Sierra Madre and Cordillera region by helping them establish a sustainable organic farming livelihood and connecting them to fair markets. 
Figtree Farms is passionate about creating smart, sustainable, and resilient futures for generations to come. They create products that give back to the earth, not take away.  For every bag you buy, you support the livelihood of banana farmers in Cavite. 
---
We Also Recommend
---