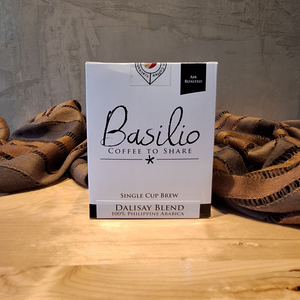 Basilio Coffee Dalisay Blend Drip
100% Pure Arabica with two different roast profiles. Best consumed black to appreciate flavors and aroma.
Each box contains 7 pieces of single cup brew; 10 grams per single cup brew good for 8 oz to 12 oz cup. 

What Makes It Good?
Sourced as Traceable Philippine Grown Coffee. Basilio Coffee is carefully processed
and precision "Air Roasted" to bring out the desired and inherent coffee flavors and
aroma.  Basilio is a coffee brand that shares -- fair trade coffee grown and produced by Filipino farmers all over the Philippines. All blends are medium-medium dark roast.

Basilio Coffee is a product of a social enterprise. We use Filipino Patented
Technology and mentorship to transform coffee communities from supplier to
entrepreneurs. From soil to cup, communities are able to have an increased
quality of life through coffee.
---
We Also Recommend
---