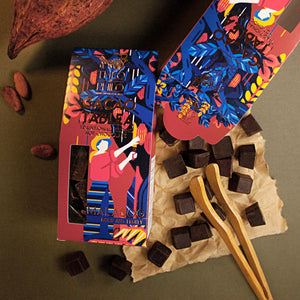 Theo and Philo Tablea Malabog
Straight from Theo and Philo's community farmers, a tablea is pure cacao used mainly for making a rich and thick hot chocolate, exactly how it was first consumed by our forefathers. 
Cook in water or milk for a rich and thick hot chocolate. Add sugar as desired. 
Net Weight: 120 g
Ingredients: 100% Pure Cocoa 
What Makes It Good
Theo & Philo proudly honors high-quality local ingredients—from the cacao beans of Davao in Mindanao, where fertile land and temperate climates produce some of the best cacaos in the region, and the world-famous sugar of Bacolod—and the renowned craftmanship of Filipinos as we share the distinct culture and fearless flavors of the finest single-origin chocolates from this side of the world.
Every bar of Theo & Philo chocolate is a masterpiece, carefully crafted to capture the rich heritage of the Filipinos.
---
We Also Recommend
---