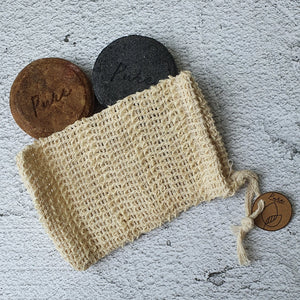 Pure Soap Saver Pouch
Saves soap up to its last bit! Instead of throwing away soap suds (small soap chunks), pop them in our soap saver pouch, add water, and lather! :)
Our soap savers are made from agave plant. 100% biodegradable! 
Grab one now and start saving 'em soaps! 
What Makes It Good
Pure Essentials PH is an advocate of zero-waste and sustainable living, and they try their best to make sure that all their products and packaging are not only safe and friendly to your skin, but also to the environment. 
Pure Essentials PH is committed to provide handmade skincare products made from all-natural ingredients. This means that even the coloring that help beautify our products are your day-to-day backyard ingredients like Moringa, Turmeric, Annatto, etc.
---
We Also Recommend
---