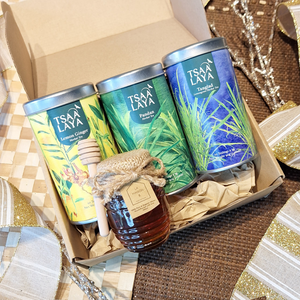 Tsaa Laya Tea and Honey Bundle
This bundle is perfect for your morning or afternoon tea break combining products from Tsaa Laya and La Maison B. 
It includes:
1. Tsaa Laya Lemon Ginger Tea (10 bags)
2. Tsaa Laya Pandan Tea (10 bags)
3. Tsaa Laya Tanglad Tea (10 bags)
4. La Maison B Pure, Raw and Wild Honey - 100ml 
What Makes It Good
Tsaa Laya works with a community in a relocated resettlement in Calauan, Laguna, training them with entrepreneurial skills in hopes of enabling them to be business managers-owners of the tea livelihood program.
La Maison B is an advocate of Conscious Living
 and in order to live consciously, and they believe in creating a Conscious Home
. That's why La Maison B have carefully curated bespoke home essentials to help you live your best, most conscious life - one that reflects who you are and how you live; a place where you can nourish your spirit, inspire your mind, and connect to your higher self and the Divine. 
What's more, 
20% of La Maison B proceeds support autism awareness and inclusion efforts.
---
We Also Recommend
---